My dad's clinic was packed today, all the way to closing time. I asked him if the major complaint of his patients was overindulgence during Christmas. Force knows, we came dangerously close.
Christmas eve we went out for dinner and cheesecake, and to catch the Christmas performances at the mall. Christmas day breakfast at this spanking new dim sum restaurant (where hordes of people, most of them coming straight from the church, had similarly gathered), *and* dinner at my aunt's, my uncle having cooked up a giant vat of spaghetti. Then *another* dinner at the country club restaurant the following night, to celebrate my other aunt's birthday. Oi. Antacids all around, please.
Was pleasantly surprised to receive more unique coins from my parents for my (small but slowly growing) collection - two solid gold, one silver, all commemorating special national events - as I hadn't expected them to get me anything (and had certainly said as much!). Also - probably as proof of how much of a games nerd I am - received three games from friends this season: one of which is still scaring the hell out of me because I'm wussy enough to play it only when there's still daylight or when there are people talking to me on Steam (
Amnesia: The Dark Descent
); one which is something I would never have thought to get but which turned out to be highly entertaining (
Lego Indiana Jones: The Original Adventures
), and one that I'm going to die of old age before I play it because it's taking forever to download on Steam (
Mass Effect 2
). And if you don't think that's already enough to last me many, many months, I went and bought
Wings of Prey
for myself as well because... well, it's a World War II fighter simulator, and I never quite got over my
I Want To Be A Fighter Pilot
phase. (Fighter/bomber sims were about all I played during my misguided adolescence).

Lego Indiana Jones: The Original Adventures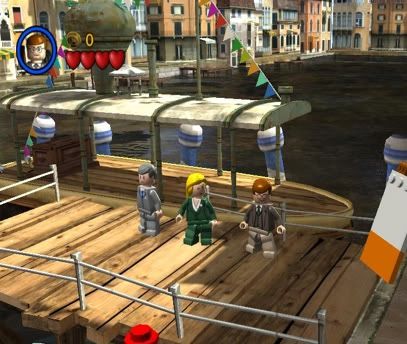 This isn't the sort of game I would have ever tried on my own, let alone get, but playing it has disabused me of the notion that Lego Video Games are only for little kids. Tory actually got this for me so that we could play co-op. If she'd read the specifications a little more carefully, though, she might have noticed the words, "local co-op"... which effectively means that, unless we find a way to open a wormhole connecting our studies, we're not going to be playing together anytime soon. Which, actually, is a bit of a blessing, given the kind of havoc you can wreak with this game.
I haven't played all that much of it yet, but I can honestly say this:
Lego Indiana Jones
is singularly The Most Destructive Game I have ever laid my grimy paws upon, and I'm saying this as an action game fan, and especially one who has played
Ghostbusters: The Video Game
, where they tell you in your financial statement just how many thousand dollars' worth of government property etc you have managed to wreck while taking down your ghosts (my final tally being somewhere in the order of USD300+ K). To put it simply: *anything* made of Lego bricks can be destroyed. This includes all manner of plants, furniture, fixtures, decorations - and, of course, other Lego characters. Not only can you smash *anything*, even upright pianos, apart with your bare fists, the game actually
rewards
you for this wantonly destructive behaviour by giving you - gasp! - money for anything and everything you break.
Here we see Indy savaging an innocent filing cabinet as coins pour out of it:
Hilarious, I tell you.
Anyway, I digress. The game, as its name implies, is Lego brick-based... or at least Lego bricks rendered in beautiful, shiny 3D. All three original Indiana Jones movies are represented here, each with its own game:
Raiders of the Lost Ark, Temple of Doom
and
The Last Crusade
. In each chapter, Indy is accompanied by one or more other characters, each with his/her own special moves/actions/abilities: Indy has his bullwhip, of course; female characters, being more lithe, can jump higher; other characters may wield special equipment, like Satipo who, in Raiders, wields a shovel you can use to unearth partially buried treasure. Gameplay-wise, it's very much action-adventure style, with a hell lot of running and jumping, and finding keys and pulling levers. Only, this being a Lego game, you also get to *build* things to earn rewards or obtain objects for progressing.
It's a highly entertaining game - and not just for kids either. I suspect that it would be even more entertaining playing it with a friend because... there are endless opportunities for annoying the hell out of each other, seeing as you can push and shove and punch each other, and even put them in a position where they die every time they respawn. Of course, these being little Lego people, there isn't any blood when anybody dies, and they just come to pieces when they kick the Lego bucket. It's also interesting how much of the original story can be captured in a game that involves only hilarious facial expressions and body language, and absolutely no conversation, even if the game is more a humourous version of, rather than a faithful, accurate recreation of the original movies. (How serious could Lego Nazis possibly be anyway?).
On the flip side, the controls make me want to throw my mouse at the monitor at times. Characters can get stuck in various odd places, enemies can spawn where you can't get to them, and you can trip over a ledge and fall to your death on a bed of spikes - and respawn right at the edge of said ledge to fall in and impale yourself again and respawn right at the edge of said ledge to fall in and impale yourself again ad nauseam. And to make it worse, characters you're not currently playing can block your path out of said hazards, keeping you locked in a vicious reincarnation-violent death cycle. Saving is also a headache: the game only saves after you complete a chapter, which is pretty dang long, so if you have to shut off your computer or go anywhere before you complete one, you can kiss your game goodbye. Oh, and lest you think you can play *any* of the three games at will... think again. I spent a considerable amount of time dismantling everything I could crack my bullwhip at in
The Last Crusade
, only to realise that, to progress to the next section, I needed a character I did not currently have, and couldn't obtain unless I played the game right through from
Raiders
and
Temple
. GAH!
All in all, though, it's a fun game for when you're tired of violence, blood and gore, and want a little good, clean stress relief. Unless of course you find yourself in one of those loops, in which case the game actually
causes
stress, and rather a lot of swearing.
Next up: Wings of Prey.

Quote of the Day:
Linda: [On Christmas day, upon seeing that I'd launched Amnesia] "So you're celebrating the birth of Jesus by playing a game that causes you to scream out his name frequently?" ROFLMAO.
Amnesia Diary:
Do not ever assume, when reaching a door, that the monster you hear growling necessarily has to be beyond the door. Turning up a staircase in the sewer to a heavy wooden door, I heard the ominous rumble, and turned and RAN back around the corner - only to crash headlong into one of the goddamn freaks. Needless to say, Daniel's face got torn off in the encounter, and my heart jumped out of my ribcage in a panic and ran away with my lungs.